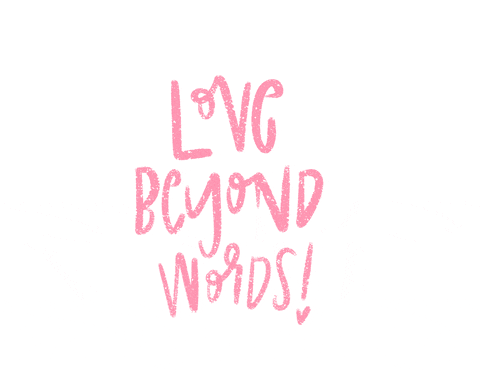 Not that we need an excuse to gab about LOVE, but with Valentine's Day being so near we felt like the timing is perfect to do just that. Remember the good old phrase, "Actions speak louder than words"? There's a reason it goes down in history as one of the best, and we believe the same goes for love. The act of love speaks louder than simply saying it. Saying I LOVE YOU and really meaning it is a beautiful thing of course, even if it's just out of habit. But if we're just saying it and not following up with actions out of love or doing things to show the ones you love that you love them,  we've got something to work on. We can't let love stop with our words! 
It's safe to say we both believe the hype surrounding Gary Chapman's 5 Love Languages and can fully understand that everyone shows and accepts love differently. If you haven't already read it, (we suggest you do) it will tell you that every love language requires different ways of showing love, but none of them stop at the three little words, "I love you". All of them require more. Chances are you love the SHHHHHH out of your loved ones. But sometimes you have a hard time showing them, because… well…. life. So let's put our feelings into practice and see where it takes us.  We think that loving beyond words is so important. We should do things FROM love… not FOR love!
Here are a few ways you can practice loving beyond words.
Give them your time – Schedule time that is completely uninterrupted to focus on them

Do something to make them laugh – Laughter is the best medicine! Send a text during the day with a joke or a funny GIF to make them laugh

Let them know you're thinking about them – Leave a post-it note on the counter or get them a coffee. Something out of the blue just because you were thinking of them

Food – Because who doesn't love food? Baking a special treat or making their favorite meal fills their tummy and their heart

Help them finish a task – Is there something they have to do that you know you can help with? Go get their car washed or mow the lawn to help them

Listen – Like REALLY listen. Be fully engaged so you remember what they said and don't have to ask later

SURPRISE them – Plan a special night out or event with them just because you want them to smile

Motivate them – Be their biggest cheerleader, especially when they are doing something that is good for themselves and others. Let them know they are making a difference

Hold their hand – You know when you see an elderly couple holding hands it it makes your heart want to burst with cuteness? So go on, reach on across the arm rest and give their hand a good old squeeze!
Let's also not forget to love ourselves! John Legend sings it best when he belts, "If you love yourself then you'll never be alone…". We find that it is much easier to love ourselves if we act in a loving manner toward others, and that is a cycle that is hard to break. Because love is a powerful force, and when you love yourself, that is the strongest foundation that force can have!
We have learned along this amazing journey to change the world with kindness, that there's always room to grow and learn, and that the best way to get the most out of life is to be the best version of yourself possible. Love beyond words. It's worth the effort! We promise.
_______________________________
We are 2 Colleens who share a passion to make the world a kinder place. We're so happy you're here!
We started recording our conversations.
Mondays get an undeserved bad rep.
There's always a lot more behind our messages.
We really like to make people smile.
The not so secret to a happy, successful, fulfilling life is the simple truth that kindness changes everything. Follow along and join us in spreading kindness every single day. Practice makes kinder!